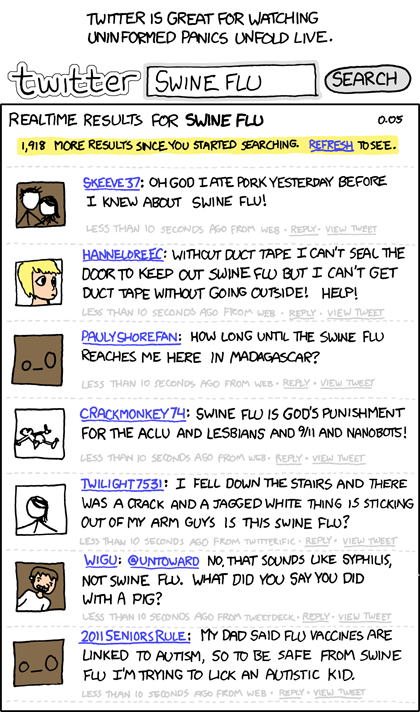 Everyone from XKCD to NPR has been blaming Twitter for spreading panic about the Swine Flu:
Who knew that swine flu could also infect Twitter? Yet this is what appears to have happened in the last 24 hours, with thousands of Twitter users turning to their favorite service to query each other about this nascent and potentially lethal threat [...] And despite all the recent Twitter-enthusiasm about this platform's unique power to alert millions of people in decentralized and previously unavailable ways, there are quite a few reasons to be concerned about Twitter's role in facilitating an unnecessary global panic about swine flu.
I mean, status updates like these are certainly cause for alarm:
Swine Flu Crisis: Secretary Napolitano Lacks Credibility
Fort Worth Closes Its Schools as Swine Flu Spreads in US
Swine Flu at Church: Fear Not?
PANDEMIC POTENTIAL
Delaware swine flu outbreak gives Hofstra softball title
US Flu deaths expected
Face masks aren't a sure bet against swine flu
California Marine has swine flu; 30 quarantined
Swine flu takes health community by surprise
Swine Flu is a Democrat(ic) scourge
Everett doctor may have swine flu
Pa. university has swine flu scare
Swine flu may be cause of CSULB student illness
1st swine flu death reported in US, Ohio child recovering
Oh, I'm sorry - I got news headlines mixed up with Twitter. Yes, those are all print news headlines from the past few days.